Subscribe to Stay Informed
Back to Alerts
Hurricane Ida Brief # 2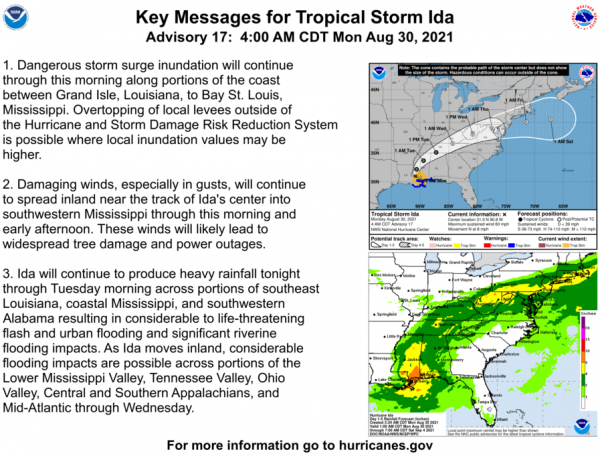 HURRICANE IDA BRIEF August 30, 2021
The latest update from the National Hurricane Center puts the track of Ida's remnants over our area Tuesday night into Wednesday. Right now our primary concern will be impacts from heavy rainfall associated with Ida on top of rainfall expected today and Tuesday with a frontal passage. Confidence is high that considerable rainfall amounts will fall in the Mon River Valley basin, but details on exact locations and amounts will become more clear in the next couple of days.
Rainfall: 2 to 6 amount forecast (less north of Pittsburgh). Flash flood watch has been issued for portions of east-central Ohio, West Virginia, and southwest Pennsylvania.
Wind: Little to no impacts expected
Rivers: River forecasts will be closely monitored as rainfall amounts become more certain.
Please visit www.nhc.noaa.gov for the latest information: